NREMT Paramedic Prep Course
'18 Hours of Material Presented Live Online'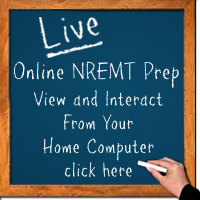 Whether you are taking your NREMT Exam two days from now or 2 months from now, our online NREMT Prep Course will make sure you're prepared to pass! If you're like most people today, you probably don't have time to spend two or three full days attending a prep course away from home. That's truly one of the great benefits of this course. Not only do you get fantastic instruction and tips on the NREMT exam, but you can watch and interact with the class without ever leaving your home! We schedule our classes in the evening over multiple days giving you the best chance to attend. If you miss a day or can't be there for the entire session, no worries. Your session will be available for download so that you can watch it at your leisure!
This NREMT Prep Course prepares you to pass your EMT Exam like no other course can because our course is designed so that you can interact and learn from the comforts of your personal house. It is a known fact that being in an environment you feel the most relaxed in is the most effective way to review. Our system is not a pre-recorded video. Our system is a completely interactive learning experience. Have a question? Click a button to raise your hand and our instructor will get right to it.
Our NREMT Prep Course was developed by veteran Firefighter/Paramedics from a couple of the busiest EMS services in the country as well as instructors from some of the best Emergency Medical Schools in the country. This 100% online NREMT Prep Course has one of the best first-time pass rates of any other type of prep course in the business.
Click Here for registration information!